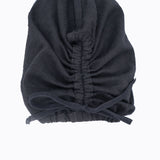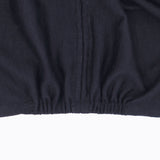 Sarah Musa
10-in-1 Wool Turban- Black
SKU: HCS004
Our 10-in-1 turban allows you to seamlessly do 10 turban styles within a matter of seconds with no excess fabric or pins!  There is a back adjustable tunnel to accommodate various hair types. Additional bottom back elastic tunnel helps hold fabric in place when tucked in.  
Story of our wool:
We work with a small family run knitting mill that was founded in 1986.  They are experts in their field and highly specialized with the best machinery.  Our wool is sourced in New Zealand by certified woolmark yarn, spun in Italy, and knitted in Great Britain.
Fabric: 100% Wool
Care: Hand wash cold and lay dry or dry clean
*We recommend you wear our 10-in-1 with our cotton undercap (view here) to keep hair contained and turban in place as pictured on our models.