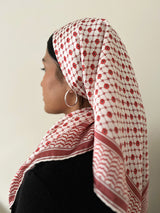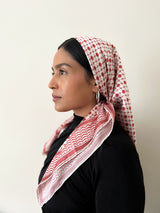 Sarah Musa
100% Silk Palestine Poppyseed Scarf (Red) 33"x33"
SKU: HW007
Using the traditional Palestinian Kefiyyah (Hatta) known to represent resistance we have incorporated our national poppyseed flower into the fishnet making this a one-of-a-kind, unique print.  Poppyseed flowers can be seen in fields across Palestine and incorporate the colors of the Palestinian flag.
Made of 12mm 100% silk satin. Each scarf is printed and hand sewn by a small family run factory in Bursa, Turkey.

100% of profits from our first production run will be donated to urgent relief efforts via Palestine Red Crescent Society.
The meaning behind the print: 
Center fishnet pattern: represents Palestinian fishermen and the Mediterranean Sea
Poppyseed flower: is the official national flower of Palestine. It is a symbol of resistance and mirrors the colors of the Palestinian flag.
Solid lines: represents the rich history of cultural exchange and trade routes through Palestine
Boarder pattern: represents olive leaves from our olive trees which are a sign of strength, resilience, & perseverance
Size 33"x33" (83cmx83cm). Size may vary slightly due to hand stitching.
Dry clean only or hand wash (gentle) and line dry.